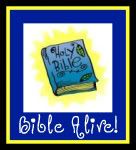 Here's a very quick x-ray/skeleton craft we did last night, to go along with reading
Ezekiel 37
. You know the passage..."Dem bones, dem bones, dem dry bones." In fact, I couldn't resist playing the Wiggles singing that song for the children (you can find it
here
, on YouTube), before we read the passage.
Then, we made our craft...
...and watched The Magic School Bus Flexes Its Muscles, which you can find, here, on gamequarium.org.
I have to say thanks to Ticia at Adventures in Mommydom, for getting me thinking about skeletons, which led me to singing the song, which reminded me of the passage in Ezekiel, because it is a fun passage - prophecy, skeletons, analogy, and some really cool special effects!
If you want to show your children an actual x-ray image of a hand, we found a good one, here.
Or, for more Bible themed crafts, and fun, head over to this week's Bible Alive! Tuesday, hosted by The Fantastic Five.

It's great to be a homeschooler.